The youth program here at Two Rivers Aikido starts at age 7 and continues to age 13.
Youth age 13 are considered for the adult program based on size and maturity.
While self defense skills and technical proficiency are one focus; etiquette, self discipline, mindfulness, and a culture of respect and honorable behavior are essential to study. These principles are the context in which the youth program provides a fun and safe learning environment for all to enjoy. Classes are organized around the learning needs of youth with games and activities designed to teach the Aiki Way. We value close communication with parents to help AikiKids cultivate Peace both on and off the mat.
Some of the technical benefits of training in the youth program are: Physical strengthening and flexibility, balance, coordination, and spacial awareness. As well, techniques to avert attacks and not get hurt are the basics of Aikido self defense practices. There is a large focus on "anti-bullying" and guidance on how to deal with the seemingly ever-present potentials for conflicts and scuffles at school. We do not teach the use of striking (kicks and punches) in Aikido. We offer methods for the peaceful resolution of "playground" conflicts without exercising our own potentials for violence.
There is a rank structure and AikiKids are acknowledged for their advancement both in technical proficiency and character development. These recognitions are demonstrated by colored belts and stripes to respect age and seniority of practice and experience.
Parent's Day
Although any adult (parent or member) who enjoys working with youth is welcome to join in the fun on the mat with kids, The first monday of each month is Parents Day.
The parents of each student are encouraged to step on the mat and train with their kids.
Sweats and a t-shirt are appropriate clothing for this activity.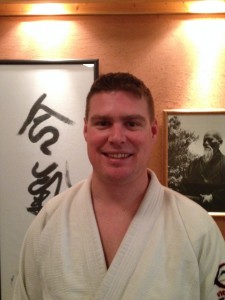 Youth Program Coordinator
Andy has been coordinating the Aiki Kids Youth Program for three years. He is a strong leader and offers his insight and experience of harmony in action effectively to the youth in the program. Andy began his Aikido journey while serving in the Marine Corps and participating in the Marine Corp Martial Arts Program (MCMAP). He currently works as a financial advisor for Edward Jones. He is a devoted husband and father to two children. His son Asher is an active member of the Aiki Kids Youth Program.
Youth Program Assitant Instructor
Ben has recently accepted the position of Youth Program Assistant Instructor. He is excellent with kids and embodies the ethic of non-violence and peacemaking that we promote here a the dojo. Vocationally, Ben works as a computer programer in supporting IT platforms. His son RJ is an active participant in the Aiki Kids program and his daughter Reese is eager to begin as soon as she reaches the minimum age.  We are pleased to have Ben on the Aiki Kids Youth Program leadership team.