Aikido was founded early in this century by Morihei Ueshiba
Also known as: O' Sensei, (an honorific term for a great teacher).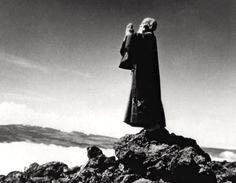 Morihei Ueshiba O'Sensei 1883-1969
Ueshiba's previous martial arts training started from the traditional study of kenjutsu and kendo, and in the military during the 1900's, during which he studied with the Masakatsu Nakai Dojo learning Yagyu-ryu jujitsu.
In O'Sensei's later years he more and more expounded upon the virtues of training as a path of spiritual development wherein the intense martial rigor softened into Inori (moving prayer).
His last calligraphy was the character for Light and his cosmology was found within the elements; perhaps a hint that true martial wisdom is that of harmonizing with the Universal flow of energy and Musubi (the knot that binds all things together)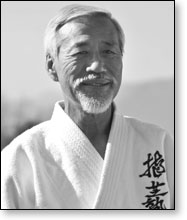 For fifteen years until the Founder's passing in 1969, Saotome Shihan lived as his personal disciple, studying under his guidance the practice and philosophy of Aikido. In 1975 Saotome Shihan left a highly respected position as a senior instructor at the World Aikido Headquarters in Tokyo to come to the United States.
When asked why he made this decision he replied, "I meditated on O Sensei's (Great Teacher) spirit for three days and three nights and I felt it was his wish that I should go. This country is a great experiment, a melting pot of people from many different cultural backgrounds living together, the world condensed into one nation. The goal of Aikido and O Sensei's dream is that all the peoples of the world live together as one family, in harmony with each other and with their environment. The United States has the opportunity to set a great example."
Craig passed to the next dimension on May 07, 2016. Craig was instrumental in moving our practice and our school forward as he held the post of Chief Instructor at Two Rivers Aikido from 2009 – 2015. He made valuable contributions to the world of Aikido. He enlivened the art both on and off the mat.
Craig began a journey in Aikido while in secondary school and continued that path while attending Oberlin College. He became a student of Mitsugi Saotome Shihan in Sarasota, Florida in 1975 shortly after Saotome Sensei's arrival in the United States and has remained with Saotome Sensei since that time.
Craig trained in Japan in 1979-1981 and has actively continued his study of the art throughout the United States and Europe. His journey centered on developing a deeper understanding of the Art of Peace and embodying Aikido and the physical and spiritual teachings of O'Sensei as directly passed to him by Saotome Shihan.
In 2011, Craig was awarded the Ueshiba Juku designation from Saotome Shihan, indicating he has directly received and is responsible to pass on to other students the principles of Aikido in unbroken succession from O'Sensei through Saotome Sensei.